How to Mix Wood Tones Like a Pro
Updated: May 16, 2022
Check your home décor because wood is making a comeback. Forget about the wood paneling found in your grandparents' basement. Today's hardwood furniture is all about sustainability.
More homeowners are turning to wood for its versatility, whether it's in modern pieces with unique designs or raw, untouched pieces that show the grain. When it comes to choosing the right wood furniture, the options can be overwhelming. But don't let all those wood tones leave you spinning.
Gone are the days of matching bedroom sets and living room pieces that feel like they popped out of a furniture catalog. Instead of buying furniture all at once, more people are picking up pieces along the way – mixing tones and colors to create a unique look. Today, people are creating rooms by mixing their own tastes, ensuring that no home is alike.
One of the keys to decorating your home beautifully is learning how to mix wood furniture. Instead of focusing on one tone or color, learn how to mix woods in a room for an inspired feel.
How to Mix Wood Tones: Start by Choosing a Theme
The first step is determining the theme of a room. Are you decorating a bedroom that you want to be comfortable and relaxing? Do you want your dining room to be country elegant? Is your living room going to take a modern, artistic tone?
Once you know how you want your space to feel, you'll be able to focus on the best furniture styles to achieve the look. Below are some tips for how to decorate a room with woods that go well together:
Consider the Hidden Undertones
Have you ever noticed the hidden tone of red or yellow in the grain of wood? These colors can help you tie in the rest of your décor – and they can also compete with each other. Make sure a pine chest doesn't clash too much with the undertones of another pine piece, maybe with a brighter undertone.
Once you have a general idea of the colors you'd like to see in a room, you can start to envision the final product.
More Is Less
When you first start to mix wood tones, stick to two or three colors. If you try to mix more than that, you can find yourself looking at a chaotic mix of elements that don't seem to go together – no matter how hard you try. Instead, pick two to three contrasting stains or types of wood that you think complement each other. Once you have that picked out, you can build from there and mix wood stains that complement one another.
Stick to Simple Colors
If you want to mix wood tones that go together, it's best to stick to a single color or a more neutral color in your other accessories. Mixing too many wood tones and colors throughout one room can seem chaotic and messy. If you have two or more wood colors throughout a room, make sure your fabric helps unify them and doesn't compete with them.
Let One Large Piece Steal the Show
If most of the room is covered in dark, chocolate-toned wood, let a large piece of furniture become a focal point by making it different. A rustic, knotted pine dresser or entertainment center surrounded by darker, more modern trimmings can help that single piece feel special.
If you happen to have an antique piece of furniture passed down through the generations, but you want to tie it in with a more modern room, simply let it stand alone as a focal point. Sometimes mixing new and old can create a look all of its own.
Allow the Wood to Balance a Room
One way to mix wood tones is to anchor a room by putting like-colored wood on opposite ends. If your bed frame is a dark maple, then put lighter-colored nightstands on either side to provide a unique contrast and a sense of balance. Your dark living room furniture can be surrounded by lighter-colored, built-in shelves to make a bold statement.
Don't be tempted to put dark-colored wood on one side of the room and light-colored wood on the other. This can make the room feel lopsided, and the darker side will always feel heavier. Instead, find creative ways to mix the two. If you have a dark book shelf on the right side, put a dark foot stool on the left side. Let the colors balance each other.
Change the Style of the Room With Little Effort
If you first bought your bed frame with a modern design in mind but found years later you'd rather go for a rustic look, fear not. These adjustments can be easy when it comes to wood décor. Leave your bed frame as it is and just work around it. Changing smaller pieces can be more affordable – and easier to do.
Add distressed bedside tables or a rustic bench. Swap out classic accents with touches of a rustic theme, such as burlap-style pillows or old books stacked on shelves. Add a down-filled white comforter that has a plush, comforting feel.
Swapping a few items can turn a modern look into a rustic retreat. You can keep the dark-colored, romantic-themed bed frame without having to buy a new one just by mixing wood tones in the room.
Let the Tones Determine the Mood
If you're trying to use wood to bring a seaside theme to your beach home, lighter tones can do just the trick. Mix a white-painted coffee table with pine-colored furniture and let the airy feel of the furniture transport you to the sea.
Similarly, darker pieces can make the room feel more formal. If you want to create a smoking lounge retreat, try dark mahogany tones with cherry-colored accents. Fill in the blanks with deep red cushions and gold accessories to bring a rich feel to any room.
Darker tones tend to give off a more serious mood. Lighter, playful colors can be relaxing and make a room appear larger.
Add Color to Unify the Tones
If your china cabinet is a honey-colored wood and your dining room table carries the room with its cherry finish, use color to unify the two pieces.  This is how to mix wood finishes in a room while making everything look connected. Pick the same color for your chair cushions, dinner plates and any other room accents to help create a seamless look.
If you want to do the same in a bedroom, choose the same color for your throw pillows, a vase and a rug. The concept can be repeated in a living room or any other space to help unify the room while using mixed wood tones.
Woods That Go Well Together
You have plenty of great options if you want to create a uniform look with different types of wood that look aesthetically pleasing when used together. If you enjoy a rustic look or country cottage charm, try mixing furniture crafted from reclaimed barn wood and rustic designs. For an elegant, refined look, choose a style with a flourishing aesthetic and have the wood treated with a specialty finish in a darker color so that all pieces match.
A good rule of thumb is to make sure all of your chairs are of the same type of wood. If you get a dining room set, it's also a good idea to order a table in the same wood and stain to match your chairs. Mixing oak wood with brown maple or hickory usually ensures your furniture blends well, as these types of wood are pale in color. Brown maple and cherry or white oak can also share an attractive pattern, depending on the stain.
Keep Bigger Pieces the Same Color
One of the easiest ways to mix wood colors is to keep the bigger pieces of furniture the same tone while experimenting with the accents. If your couch frame and coffee table are the same dark wood, mix in lighter tones in a lamp, picture frames or a single chair. This allows you to experiment with different shades without losing a sense of structure.
Doing this also makes it easy to change the look of a room later on. If you decide you want to switch themes, changing the smaller items is more cost-effective than switching out entire sets.
Unite Wood Tones in Other Rooms With Accessories
If you've got cherry furniture in one bedroom and black wood in the next, help these two rooms feel like they belong in the same house by using similar-toned accessories. Use accessories in one room that feature the prominent wood tone found in the next. This can work especially well for adjoining rooms where you want to see a theme but not have it be exactly the same.
A dark bed frame in one room can be complemented by dark lamps in the next. Use similar patterns for blankets, curtains or throws to help tie it together.
Now, when you or your guests walk from one to the other, it won't feel like you've stepped into someone else's home.
Let Fabrics in the Room Mimic the Wood Tones
If your furniture is all white-painted wood, but that upholstered chair you love comes in a light blue color, let it become part of the theme. Use similar, light-colored accents to tie the whole look together. Wood elements in a coffee table, lamp base or coat rack can help bridge the lighter color with the darker contrasting pieces.
This is also another way to help balance a room. Let dark throw pillows complement the dark side tables on either side of the couch. Light-colored drapes can help provide balance to the light-colored bookshelf across the room. Contrast and complimenting elements go beyond the wood itself. By using other items in the room, the wood can become an even more valuable piece.
Let Contrast Make Your Furniture Pop
If you're putting a maple table over a maple floor, you might find the two melt into each other. This is a great opportunity to try contrasting wood tones for the first time. Try a pine or even a deep, dark table to help the two elements work together instead of against each other.
If things match too much, it can take away from the room and the investment you've made in each piece. Instead, let the differences bring out the strengths of each piece. You'll find they shine a lot better when they don't compete.
Pretend the Floor Is a Neutral
If you have a dark-stained floor or even paler tones below your toes, let the floor act as a neutral. Unless it has underlying red or yellow tones to the stain, feel free to use any other wood color in the furniture above.
Contrast a dark-stained floor with lighter furniture or vice versa.
Use the Walls as a Base
If you already know what color or pattern you want to use for the walls of the room, make sure you finish that part of the process first. If you repaint your walls after placing your new furniture, you might realize that a different type of wood would have looked better. If your walls are lighter in color or a neutral tone, you can decorate with nearly any wood tones you prefer.
If your walls are bright in color, you have to be careful to select furniture which will stand out. If you have dark walls, lighter furniture will be more noticeable against the natural background. To better visualize what your furniture would look like in a room, hold up images of the desired furniture for comparison while standing in the room.
A Buffer Can Make All the Difference
If you really love that pine table and can't bear to part with your pine floors, use a buffer to keep the two pieces from disappearing into the other.
A rug is an easy way to do this, but it doesn't have to be the only way. Usually, a light-colored rug can help break up the dark features of a floor or table, but furniture can do the same. Use dark-colored chairs to break up the light-colored tone of a pine table against a pine floor.
Now, instead of your favorite piece of furniture looking drab, it pops against the otherwise matching floor.
Stick to the Grain
If you find you really want to mix your wood tones, feel free to mix and match whatever catches your eye – but stick to the same grain. There are nearly as many grain options as there are stains. The different grains can help you decide if you'd prefer a more natural, untouched look, or if you'd rather have a classic, sophisticated home.
Larger wood grains tend to give off a more casual feel, while tighter grains inject an air of elegance. Even if woods have a different finish, having a similar grain can help tie them all together. Remember to stick with about two to three different kinds of stains. Adding a single grain will add depth while keeping the room unified.
Let White Mellow It Out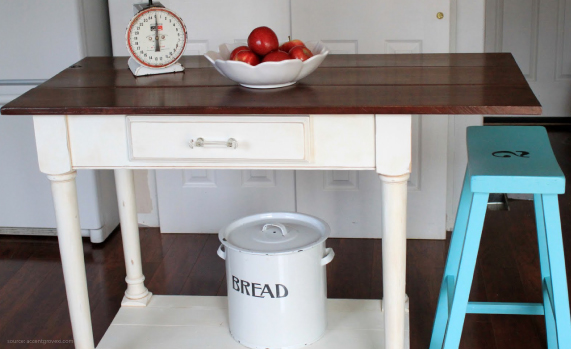 White on wood is making a big comeback lately, and it's easy to see why. Painting this light color across wooden furniture, cabinets and other items is very complimentary to a variety of wood stains.
Instead of going crazy with a bunch of different wood stains, pick one or two and then use white to balance out the rest. This works especially well if you have a piece of hardwood furniture that just doesn't fit with the rest of your items – a coat of white paint would help unify the whole look.
Make the Accents Work for You
Mixing wood tones can be as easy as using the accessories in a room. Frame black and white photos in a variety of wood colors and place them all on the same wall. Place a dark-framed mirror above a light bed frame to contrast the two pieces. Use different colored wooden bowls across your kitchen counter to provide a complimentary theme.
The addition of wood accents can help tie a room together without costing a lot of money. These items also can easily be changed out to go with new styles or uses for your space. If you stick with big furniture pieces you know you can keep for a lifetime, the easiest way to keep things updated is to change the accents.
Let Your Furniture Reflect You
No matter the style or color of the wood you choose, make sure they reflect your home and the functionality you hope to get out of it. One of the nice things about being able to mix wood tones is that you can change it based on your mood, current styles or where you are in life – whether it's buying your first home or getting ready to welcome your first grandchild.
Hardwood furniture also becomes an investment piece, not only for your own home, but something that can be passed down and appreciated by others.
Order Quality Furniture With Amish Outlet Store
We have a variety of Amish furniture for all your needs, whether you're decorating for your home, apartment or office. Our custom furniture can be ordered in a variety of wood tones and stains to fit your room's style perfectly. To keep up with the latest furniture trends, specials, and events sign up for the AmishOutletStore.com newsletter. Please contact us if you have questions about any of our products.