Specs:
20″W x 34″D x 35″H
– Natural Cypress Wood
– Assembly Required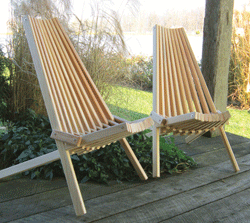 Interested in learning more about our shipping process and cost?
Learn More
Cypress Cricket Chair
Do you want to add a completely unique piece to your outdoor collection? The Cypress Cricket Chair offers a fun and different way to sit when you want to do it in style. Its shape mimics that of a traditional chair, but it's composed of a number of thin pieces that come together for a visually stunning effect. This chair has been put together in a way that allows you to fold it up when it's not in use, allowing you to remove it from your seating area quickly and without fuss.
Comfortable enough to sit in for hours with a book or while conversing with a neighbor, the Cypress Cricket Chair will quickly become a favorite in your household. The Cypress Cricket Chair is made from cypress wood, which has many advantages when used for outdoor furniture. It won't decay and resists insects. You won't need to pressure treat our cypress outdoor furniture, either. While you may choose to paint or stain it for the aesthetic effect, you can also leave it in its natural, untreated state.
You make an investment when you buy a piece of furniture from AmishOutletStore.com. You receive a piece that will last for the long haul. It's so sturdy and reliable because it's made by Amish artisans who understand the importance of great craftsmanship. They also value using high-quality materials, giving you a chair you can enjoy without worry.
You get that chair at a reasonable price, too, of up to 33 percent off. We also offer additional discounts through our monthly specials posted on our homepage. Contact us today to purchase a Cypress Cricket Chair for your deck or patio.
Common Furniture Product Questions
Amish Outlet Store receives many commonly asked questions about our furniture. Browse our FAQs to learn more about furniture options, production, shipping and more. If your question is not answered below, please contact us online or call 330-669-9919 for further information.
While most of the products at Amish Outlet Store are no-assembly furniture, some furniture categories have pieces requiring some assembly. The furniture type determines whether you'll need to assemble any components.
All tables and beds require some level of assembly to complete. Components such as headboards, frames and table legs may need to be assembled when you receive your new dining table or bed. Many other items do not require any assembly, including most smaller furniture such as coffee tables and end tables.
Amish Outlet Store offers many furniture customization options to make your furniture your own. Every product is made to order using high-quality solid woods.
You can choose the wood type and finish for virtually any furniture piece based on the options listed on the product page. Other customizations vary by piece. Some builders customize nearly any aspect of the furniture, whereas others only offer limited changes.
Here are some common alterations our customers make for their custom furniture:
Increase or decrease the dimensions
Add or remove doors and shelves
Reverse the furniture layout
Add locks, grommets or more cord holes
Replace wooden doors with glass
Add electrical outlets and lighting
You can discuss your furniture customization with us before or after submitting a custom quote by contacting us online or by phone.
One of the most common customizations includes choosing the wood type and finish listed on the product page. Amish Outlet Store will need more details about other customizations you'd like to make. Here is what to expect when ordering furniture online:
Our customer service representative will ask for the exact details of the changes you want to make to your furniture, including the dimensions.
Amish Outlet Store will work with the builder to see if they can make the changes.
Your project will move forward if the builder can make the custom changes. If not, we'll help you determine which customizations work best for you.
The customization options vary by the builder. You can expect custom furniture to take longer to complete.
Amish Outlet Store delivers Amish furniture anywhere in the contiguous United States. A professional furniture delivery company will bring your furniture to your location and handle it with care during loading and transport.
We calculate sales tax based on the state of residence. Amish Outlet Store cannot deliver furniture to Alaska or Hawaii.
Amish builders in Ohio and Indiana handcraft all AmishOutletStore.com furniture. They use North American hardwoods such as the following:
Oak
Brown maple
Cherry
Hickory

Quartersawn

 

white oak
These hardwoods can be customized with your choice of stain. Hardwood and stain options vary by piece.