Furniture Pieces for Your Hallway
The hallway, or entryway to your home, is often the place where you can make your first impression to your guests. You will want to draw the attention of your guests to an area that is both welcoming and beautiful. This is the first part of your home that people will see and will reflect your sense of style and personality. However, too often, the hallway is ignored — even though it would be so simple with some cleverly placed pieces of furniture or decorating ideas to create an area that makes a bold statement.
How to Brighten up a Dark Entryway
If your entryway is very dark with either low lighting or dark wood or both, you will want to contrast that with lighter furniture. Adding a lighter or a textured piece will definitely help brighten up the hallway. You might consider an Amish bench & hall seat or an Amish cedar/blanket chest.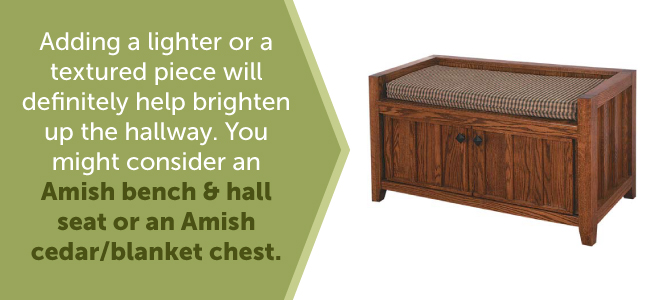 You could also consider adding large mirrors. Mirrors were often used in the Colonial and pre-Civil war times to brighten up areas that were lit by candle light. Mirrors not only give the illusion that the area is bigger, but they also help create additional light since the candle light reflects off of them.
Small hallway furniture such as floor lamps or table lamps on a bench & hall seat or a cedar chest would also be helpful in contrasting the dark wood or paneling that is present in the hallway.
What Type of Statement Piece Should I Add?
Though you may have rectified the problem of creating light in a dark hallway, you now want to know how to create a statement. A beautiful hand-crafted clock will definitely attract attention. What better place to put the clock than in the hallway when you first walk through the door? The clock will create a statement of elegance, and a striking Amish clock may be just what you need.
There are a variety available, and some can be made to double as a wine rack. If you are having a dinner party and invite guests into your home, you could have the wine rack fully stocked and suggest the guests pick a bottle of wine as they walk through the door.
You can also create a statement by placing chairs as part of the hallway furniture for your entryway if you have a big enough area. Hallway seating can be very inviting, and it's the first furniture people will see when they enter. Therefore, it can immediately express the style and impression you are looking to create.
If you want to create a more formal style when considering hallway furniture ideas, consider Early American upholstered furniture. This furniture doesn't sacrifice comfort to achieve that formal classic look and will definitely be a memorable statement piece for your hallway. Early American upholstered furniture comes in a variety of pieces including recliners, chairs, formal sofas and settles.
In addition to traditional pieces of furniture to decorate your hallway, you may be thinking of showing off your collectibles in a display case. An Amish curio/display case would be the perfect way to display any collection — and what better place to put this than the hallway where you can make a statement about who you are and what you love to collect?
If you don't have many collectibles, you could start one — and go for a theme. For instance, you could have bird prints on the wall of the hallway leading up to the display case and an array of bird memorabilia — statues, plates, etc.
Maybe collectibles are not your style, and perhaps you merely want to create an entryway that is warm and welcoming. You might want to have soft light from a table lamp glowing as a beacon to invite guests into your home. If you are looking for a very traditional look in a table, especially a table that is in the Shaker style, you might want to think about the Amish occasional table.
You can look at a variety of these tables to suit the size and shape of the area where you'll want to place your table lamp. There is a wedge-type table you can place in a corner, so it's very versatile. To tie your design together, you could even consider having a lamp table and a plant stand that matches it at the other end of the hallway.
If you're looking to make lighting a part of your entryway, modern light sconces will also create a stir among your guests and keep them talking — especially if you choose very unusual ones.
Practical Ideas for Additions to Your Hallway
If you are someone who isn't really interested in impressing your guests but is tired of all of the clutter in your hallway and your closet is too small to accommodate all of your shoes, coats, etc., you may want to look at other options.
For instance, if you have a large family, some kind of entryway furniture with lots of drawers or cubbies can be useful to keep those mounds of shoes organized and out of sight. You can purchase easy-to assemble shelving to accomplish this, and add baskets or bins to keep shoes hidden. If you put a comfy cushion on top of the cupboards, it could double as a seating area. To create a rustic air, you could try the 2-Door Mission Bench in Oak. Your hallway will be stylish, comfortable and organized.
In addition to having a location to put the shoes, you may want to provide storage for your coats, and a wardrobe is another piece of furniture ideal for that purpose. It can also be used to store the other items that often create clutter, such as book bags, backpacks and laptop cases. They'll be easy to find, hopefully reducing some of the stress of searching for what you need on a busy morning.
Though a wardrobe is a great piece of hallway furniture to help with organization, you may also want to use customizable storage cubes to create organization in your hallway. That way, you can decide how many cubes or shelves you want in your storage unit to best suit your needs.
And if you decide that a wardrobe and storage cubes aren't sufficient for your hallway storage needs, you may opt to add a bench to your storage cubes and wardrobe purchase for purposes of organization. If you purchase a bench or chest which opens for storage, you could put bags in there and have a piece of furniture that doubles as a seat for those who are putting their shoes on and an area to keep school bags and laptop bags organized.
Though it may seem that a hallway filled with practical pieces such as a wardrobe, customizable storage cubes and bench don't make a statement, you may want to consider that purchasing a unique bench for storage will enable you to add style to your storage units. A Shaker style cushioned wooden bench which has some drawers for storing small items and racks below where shoes can be stored is the perfect piece of furniture that is not only functional but stylish as well.
And don't forget that you can add storage by placing mounting baskets onto your wall. You could put each person's shoes in their own basket. Typically, the baskets are mounted onto a post of the same color and are hung one below the other. The only difficulty you might have would be that you would need to ensure that whoever had their shoes in the baskets near the top would be tall enough to reach them without assistance.
Changing the Purpose of Your Hallway
The hallway can be a decorative area to make a statement, or it can be a great place to get creative with a variety of storage solutions. But have you ever considered making the hallway into another type of space altogether?  
For example, a hallway would be a great place to not only display your books, but also to have a sort of library. A sturdy well-crafted Amish bookcase would work well in a hallway, especially a large one where you might be able to consider adding a comfy chair to turn the space into a cozy reading spot.
If you have a hallway that is more of a large entranceway like that often found in farmhouses, you may consider making your hallway into a dining room. All you need to do is to add a dining room table to match the hardwood floor of a typical farmhouse. Amish dining tables are made completely by hand with great attention to detail, and each piece is of the highest quality.
Decorating a Hallway for the Environmentally Conscious
While you may not have a hallway that is large enough to repurpose but you really want to create a statement, think about purchasing a well-made wooden bench and adding some unique cushions. If you want cushions that are truly unique — and environmentally friendly — use carpet that has been reclaimed.
You might also consider reclamation through the use of antiques. For instance, an antique basket placed under an entryway table could be a good place for storage of your dog's leash and toys. Not only would these items be kept out of the away and not underfoot, but they would be stored in an easily accessible location as well.
What Pitfalls to Avoid When Decorating a Hallway
While all of the previously mentioned ideas are definitely do's when decorating a hallway, it is also important to note what to avoid:
Incorrect placement of mirrors.

Mirrors can be a great way to create light and the illusion of space, especially in a dark hallway. However, it's important to think about their their placement. Make sure your mirror is reflecting what you'd like it to and the amount of light you want.

You might want to place a mirror across the hallway from a beautiful watercolor, or you could have it at an angle to reflect a unique sconce. Both ideas would brighten up the area and show a reflection that will enhance the space. It is very important to place the mirrors in the hallway strategically so that they reflect works of art or lighting whose reflection will enhance the hallway.
Insufficient lighting.

If you have no windows in the hallway, the space may seem dark. Your design techniques, then, will need to ensure the space gets lighter and brighter rather than adding to its darkness.

Painting the hallway an inviting light color will make it appear brighter and more enticing.

Adding track lighting or table lamps along the hallway will also make it seem lighter and more inviting.
Adding too many statement pieces.

As previously discussed, statement pieces can make a great addition to a hallway. And while your hallway or entryway can serve a variety of purposes besides just a connection between two points, be careful not to add to much to it. Adding too many statement pieces has the potential for making your hallway look more closed in and less inviting to the person walking through your front door.
Dark Hardwood Flooring.

Even if you minimize the number of statement pieces, you may not have the option of changing the flooring. While you may love the original hardwood floor that you have unearthed in your home, a dark hardwood floor will make your hallway look even more narrow. If you don't have the option to change the flooring or don't want to change the flooring, consider adding a runner. Having a runner that is very brightly colored or has bold patterns will make the floor seem wider than it is especially if the runner is placed in the hall somewhere near the middle.
Uninteresting Art.

With a strategically placed bold runner in your narrow hallway, you may also want to place an eye-catching piece of art at the end of the hallway. This will make the hallway seem not only shorter but wider. Don't have a small display of photos at the end of the hallway instead of the piece of art. The photos aren't as visually appealing and won't have any impact as far as making the hallway seem wider.
If you don't think you can find an interesting piece of art, you may want to create a focal point by placing a little table or a chair underneath a mirror at the end of the hallway. Both of these items will likely draw the eye of the person entering the home, creating the illusion of a wide hallway.
Armed with these hallway furniture ideas, you can create the hallway or entryway of your dreams and wow everyone who walks through. For more helpful hints and advice to make your home's décor one-of-a-kind, visit AmishOutletStore.com today and sign up for our newsletter!